PROJECT 6: MOLE MASTER DOUBLE 2-4 Version 1.0

CATEGORY: Educational Game (Specially designed for Chemistry KBSM Syllabus)

TITLE: Mole Master Double 2-4

INTRODUCTION:

The mole concept is easy to understand but the mole conversion from particles, volumes and masses are often forgotten by students who are lazy to do extra exercises.

This game is specially designed by Pahaikan.com to let students do exercises in a more interesting interface rather than just facing a book or a handout. Although a little knowledge is a must to play this game, players don't have to worry. On the board itself are written the whole conversion formula to be used throughout the game. So it is important to have a calculator to be able to give the correct answer.
MOLE MASTER DOUBLE 2-4 can be used as a learning kit or a revision kit in the classroom.

THE GAME: MOLE MASTER DOUBLE 2-4 Version 1.0
Two or four players play in any game of MOLE MASTER DOUBLE 2-4. The objective of this game is to complete the MASTER button. For every correct answer, the player will get a button, picked randomly from the sack. The button contains letter of M, A, S T, E & R. The players will then put the button on his/her side on the colored circle in front. The one who complete the MASTER word will win the game.

This game is played with a
special double 2-4
which gives the player chances to be in front from the others.
The strategy of this game is to play the
double 2-4
and when you get the chance to get to the center, you'll get a chance to get rid of others MASTER button. Be wise.... Other than that, you'll need luck to win the game.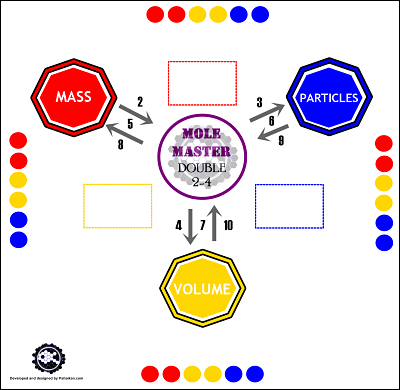 Mole Master Double 2-4 Game Board

The rules of playing MOLE MASTER DOUBLE 2-4 version 1.0 and its progresses is kept confidential for safety reason. But if you are really interested in this project, please contact me at pahaikan@gmail.com or project@pahaikan.com. We can arrange something for that purpose.